Welcome to the Sixth Form
Welcome to Sixth Form
In the sixth form we are committed to ensuring a happy environment, I often say to visitors that we only have two rules - be a decent human being and take responsibility for your learning. Intellectual, social and personal development are essential for every member of our community. I promise you that you will enjoy your time here.
We do indeed expect high academic standards where students have responsibility for their own learning and personal development, within a strong framework of support and guidance. Independence increases from Year 12 to Year 13. We offer a wide range of 25 courses, 24 A levels and 1diploma, with the freedom to choose ANY combination of subjects, (we do not 'option block'), plus the EPQ should you wish to. Most crucial of all is that all students start 4 subjects (as students did in all sixth forms until recently!) and retain critical flexibility before making the decision to drop to 3 later in year 12. This maximises final A level grades. We encourage students to take opportunities to develop old and new interests and skills, through taking part in a wide range of extra-curricular activities and educational visits. And finally preparation for your post-18 life. You're here for a mere 21 months! We devote a lot of time and effort to preparing you to engage with and make a contribution to the world.
Open offer - just email and arrange a visit...almost any time!

Mr Ian Young, Vice Principal / Head of Sixth Form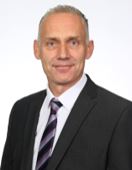 Mr Ian Young
Vice Principal/Head of Sixth Form