Biology
Year 7
Year 7 covers the following topics:
Cells and organisation, Reproduction and Genetics and Evolution.
There is a visit to the River Arrow Nature reserve to observe adaptations of organisms in their natural habitats. There is a full investigation into the effect of wind speed on the dispersal of seeds.
Year 8
Year 8 covers the following topics:
Nutrition digestion and health, The Skeletal and muscular systems, Gas exchange systems, Cellular respiration and Interactions and interdependencies. There is a full investigation into the effect of exercise on breathing rate.
Year 9
Year 9 completes Key Stage 3 covering Photosynthesis during the Autumn Term.
There are 3 weeks of structured revision homework preceding the end of Key Stage exam in December.
Pupils then begin studying for GCSE Biology which continues into Year 10 and Year 11.
GCSE Year 10 & 11
Please click here to visit the exam board website.
Examinations (at the end of Y11)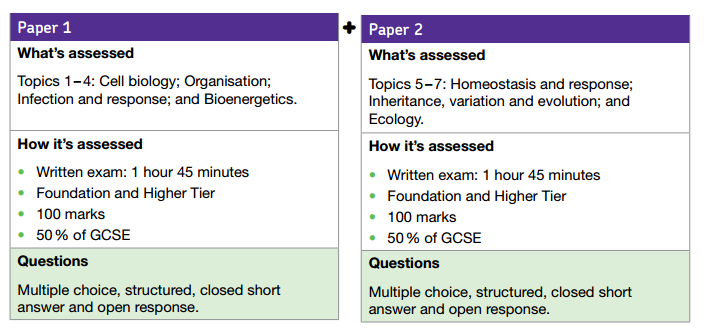 There are 10 required practical activities over the 2.5 years (including year 9). These can be examined, but there is no longer coursework at GCSE. The grading system is now 9-1. There are 2 tiers of entry, foundation and higher. The students are advised which tier or whether trlogy GCSE is most approptiate for them after mock exams in year 11.
| | Topic | Year topic covered |
| --- | --- | --- |
| 1 | Cell Biology | 9 |
| 2 | Organisation | 10 |
| 3 | Infection and response | 9 and 10 |
| 4 | Bioenergetics | 10 |
| 5 | Homeostasis and response | 11 |
| 6 | Inheritance, variation and evolution | 11 |
| 7 | Ecology | 10 and 11 |