Tales of the Greeks
Tales of the Greeks
The Lower School present a play around Greek myths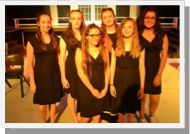 27 students took us on a mythological journey and adventure in this year's KS3 Drama production based around the gods, mortals and monsters of the Greek Tales. The 10 stories were brilliantly executed in a magical night of theatre by the cast, as we met the likes of Icarus, Medusa, Echo and Zeus.
Some tales were told from different perspectives, such as the burning of Troy through the eyes of the visionary Cassandra (Amber Elliott). Traditional Greek theatre techniques were also used as well such as the opening scene with masks as Zeus creates mortals and levels separating man from the gods as well as a greek chorus, with Ben Jeffrey leading the narration with clarity. The Gods were played powerfully by Michael O'Rouke as Zeus, Hera by Georgie James, the fearless Hades by Eleanor Timothy and the god of seas Poseidon portrayed by Ogo Juwah.
The play opened with the creation of the mortals and the calm Prometheus (Lenni Wright) helping the mortals discover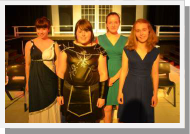 fire, which was creatively constructed with torches as fireflies. Pandora's Box saw the year 8s individually create chaos and having the plague unleashed into the open by Elena Nakariakova, before Hope came along played by Tati Vorgina-Turnbull. We had a hero in the form of Perseus (Aran Woodger) who took us on an adventure to defeat Medusa with his band of soldiers that included Finn Donaldson, Curtis Swithin and Will Dancy.
Modern and traditional styles were mixed in together such as the tale of the seasons, with Demeter (Felicity Humphries) explaining why her daughter Persephone (Emma Elias) should not be taken to the underworld in a modern court setting. This was contrasted with a humorous portrayal of the vain Narcissus (played by Olivia Hunt). One dark story was the Minotaur and how Theseus came to defeat it, but Calum Blackie played the evil King Minos with intelligence and control. Verbal battles were also carried out in an outstanding way with Amy Gemmill playing Athena and Amelia Frost as Arachane in the tapestry weaving contest, watched on with aghast by Becky Griffiths, Sophie Jones and Nixie Frost with lovely contrasting characters.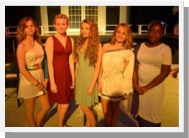 There were lovely whole ensemble moments where multiple characters were played by Celia Wright, Sian Heer and Maddie Hyder as the cast took the emotional Orpheus (Molly Povey) and Eurydice on a journey to the underworld. This was cleverly carried out as they constantly walked across moving chairs.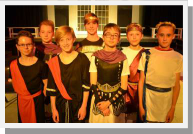 The whole cast were magnificent telling the stories with panache and style. They captured all the characters with imagination, clear vocalisation and contrasting moods and atmosphere to each story. What was particularly striking, there was no back stage help and it was down to the cast to show independence and lead the show.